Compact Shredders
Create your own destiny when you shred materials on-site
Komplet shredders are track-mounted, remote-controlled, and compact. Put Komplet compact shredders to work exactly when and precisely where you need them. Lightweight and mobile, these diesel-operated machines shred material without ripping up your budget. Contact us today and click below to learn more.
COMING SOON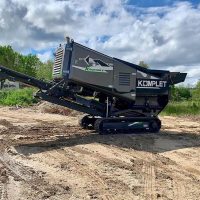 Krokodile Shredder
The MT 5000 is a compact, mobile hammer mill with output adjustment from 0″ to 1″. Fully remote-controlled and easy to transport at 7,495 lbs., it can be quickly set in place to process 5-25 TPH.
We are happy to announce Komplet North America is now the distributor for premium portable waste recyling machines and quality material processing equipment. We are excited to bring 20 years of Komplet crushers and screeners to the USA. Finally an affordable, reliable solution for crushing and screening! Become a rental house and contact us today to offer your customers a great solution with a solid return on investment when you use compact crushers, screeners, and shredders.