Description
On the job site and have construction materials you need to process? The Kompatto 104 mobile screener is an affordable entry-level screen ideally suited for small to medium-sized operators and contractors who require a versatile product capable of operating in a number of applications such as sand and gravel, aggregates and recycling. With its rapid set up time, ease of operation and features such as a high-performance double deck screen box and TWO hydraulically folding stockpile conveyors as standard this really is an excellent solution for a variety of applications with a capacity of up to 250tph.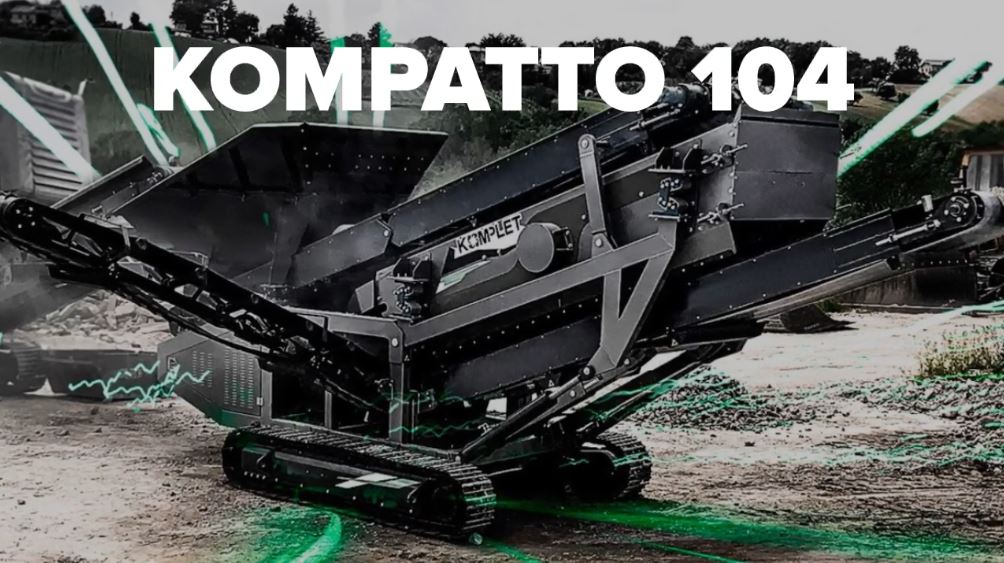 KOMPATTO 104 MOBILE SCREENER – STANDARD MACHINE
• Remote control
• Supergrip system
ACCESSORIES
• Wide range of screen media
• Vibrator on the hopper
DIMENSIONS
Working
• Length: 25.5 ft
• Width: 8.7 ft
• Height: 9.8 ft
Transport
• Length: 25.5 ft
• Width: 7.3 ft
• Height: 9.8 ft
Contact our team today to learn how the Kompatto 104 Mobile Compact Screener can improve your job site productivity saving you time and money.
We are happy to announce Komplet America is now the distributor for premium quality material processing and placement equipment. We are excited to bring 20 years of Komplet crushers and screeners to the USA. Finally an affordable, reliable solution for crushing and screening! Become a dealer or rental house and contact us today to offer your customers a great solution with a solid return on investment when you use compact crushers, screeners, and shredders.