Description
The Komplet LT 7040 mobile compact jaw crusher was specifically designed for limited access applications, like, for example, those in urban worksites. Thus, the LEM TRACK 7040 represents a new concept of mobile compact crushing equipment. It is featured of a 27″ x 16″ jaw crusher, a retractable unloading conveyor belt and a feeding conveyor belt built in a wide hopper. The Komplet LT 7040 mobile compact crusher has been designed for construction companies willing to reuse demolition material on-site and also for recycling companies needing to crush material in small-medium sites where the material is stored. Robust, yet lightweight, compact, efficient and easy to maneuver, this machine was developed based on our customers' feedback.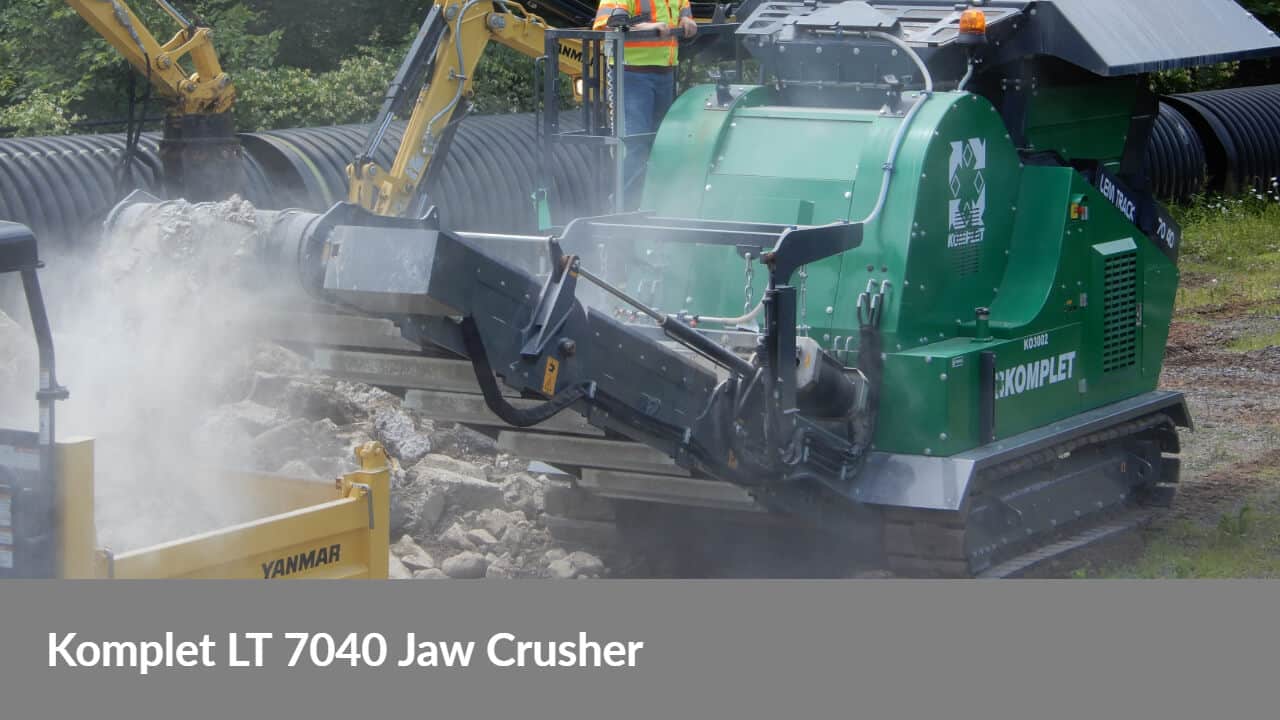 STANDARD FEATURES
• Autec remote control for all functions.
• Inspection ladder.
• Side protection.
ACCESSORIES
• Magnetic belt with optional lifting system.
• Dust control system.
• Jaw box overfeeding sensor system.
• Spotlight 12v.
DIMENSIONS
Working
• Length: 26.9 ft
• Width: 7.5 ft
• Height: 8.10 ft
Transport
• Length: 18.5 ft
• Width: 7.5 ft
• Height: 8.10 ft
Contact our team today to learn how LT 7040 mobile compact jaw crusher can improve your job site productivity saving you time and money.
We are happy to announce Komplet North America is now the distributor for premium quality material processing and placement equipment. We are excited to bring 20 years of Komplet crushers and screeners to the USA. Finally an affordable, reliable solution for crushing and screening! Become a dealer or rental house and contact us today to offer your customers a great solution with a solid return on investment when you use compact crushers, screeners, and shredders.