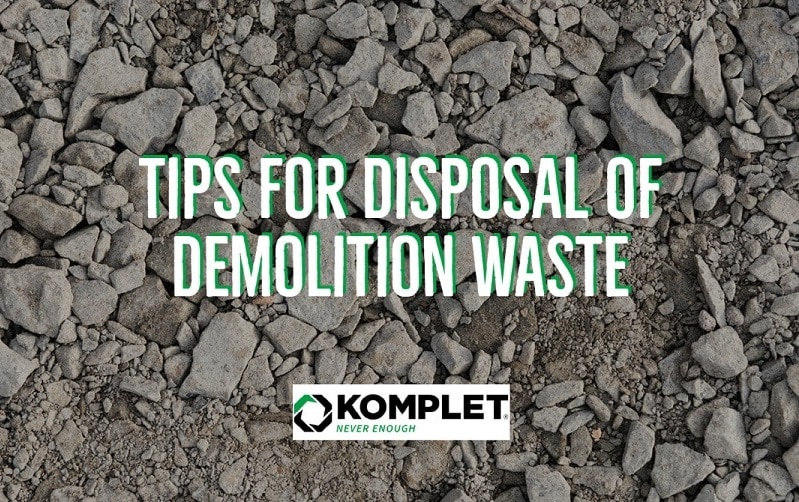 Tips for Disposal of Demolition Waste
According to the Environmental Protection Agency (EPA), the construction, renovation, and demolition industries generate over 90% of all construction and demolition (C&D) debris in the United States. This totals over 600 million tons of C&D waste.
Construction waste is typically separated from regular municipal solid waste (MSW) due to its potentially hazardous nature. Typical C&D materials include concrete, asphalt shingles, brick and clay tiles, drywall, scrap wood, plaster, glass, and ceramics.
To limit their environmental impact and reduce landfill usage, here are tips on how to dispose of these materials.
Separate Hazardous and Non-Hazardous Waste
One of the first and most critical demolition waste disposal guidelines to follow is separating hazardous materials from non-hazardous construction debris.
Many construction materials may contain small amounts of materials known to be harmful to human health. These include lead (e.g., lead paint), asbestos (once commonly used as an insulation material), and specific types of solvents and tars.
Multiple local, state and federal laws regulate hazardous material disposal procedures in your area. Ensure that all applicable regulations are followed when separating hazardous waste from non-hazardous waste.
Mobile screeners such as the Komplet Kompatto 104 are invaluable tools for sorting and separating construction and demolition debris and detecting the presence of hazardous materials.
Crush Concrete, Asphalt, and Drywall
Bulky solid waste such as concrete, asphalt, and gypsum plasterboard (drywall) accounts for a significant portion of construction and demolition waste. These materials are sourced from old abandoned buildings, roads, and other construction elements marked for demolition or renovation.
The best way to avoid sending these materials to a landfill is to process them and turn them into new construction materials at the job site. The Komplet K-JC503 mobile jaw crusher is a compact and cost-effective on-site materials processing solution. It enables construction and demolition teams to transform waste concrete, asphalt, and drywall into recycled aggregates, ideal for resale or reuse in other projects.
Reuse Ceramics, Clay, and Glass
Numerous demolition sites produce large quantities of waste glass and ceramic elements, such as tiles, windows, clay, porcelain clay (from sinks and toilets), and similar materials.
Although they do not have the same structural strength as bulky waste, research indicates that many materials may still contain hazardous materials, such as heavy metals.
One of the best ways to process waste glass and ceramics is to use a hammer mill. The Komplet MT5000 is the world's smallest tracked mobile hammer mill. It enables construction and demolition firms to process these materials and transform them into crushed glass and ceramics.
Finely crushed glass can replace sand or backfill material in construction projects or be used as a raw material for manufacturing fiberglass. Crushed ceramics can serve as an alternative to stone and concrete aggregates.
Shred Dredging Materials
Dredging materials are waste soil materials extracted from construction and demolition sites. They include sand, silt, dirt, gravel, rock, soft clay, wood, and leaves.
Many of these materials can be reused or processed. Equipment such as mobile screeners and slow-speed shredders can help contractors turn dredging materials into usable construction materials without shipping them to a processing facility.
For example, a mobile shredder like the Komplet Krokodile can shred wood elements such as scrap furniture, pallets, and boards. It can turn them into woodchips or organic mulch for landscaping projects.
Safer and More Responsible Work Sites With Komplet America
Komplet America is the sole authorized United States distributor of Komplet's range of high-quality equipment. We offer compact yet highly efficient construction waste processing and recycling equipment, giving construction and demolition firms the ability to recycle C&D waste into usable construction materials and resources.
For more information about our product range, email us at info@kompletamerica.com