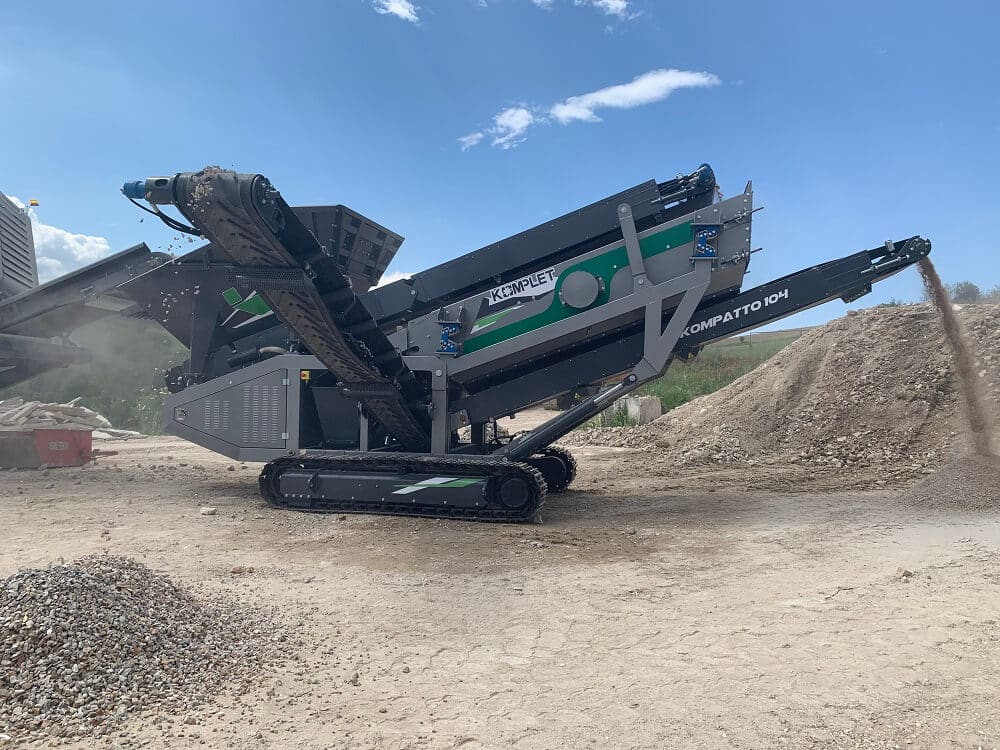 Looking for an Entry Level Vibrating Screener? Why the Kompatto 104 May be the Solution
From road construction to house construction, contractors on every job site understand how much time is wasted processing and removing debris. Many look to on-site debris processing equipment like screeners to efficiently and precisely handle this issue. If you are looking for an entry-level vibrating screener, the Komplet Kompatto 104 Mobile Compact Screener may be the machine for you.
The Kompatto 104 offers a unique blend of high throughput processing speed, compact sizing, remote control mobility, screen efficiency, and customizable double deck screen options. It is ideal for small to medium-sized contractors looking for an affordable screener to process large amounts of debris into reusable, recyclable, and waste piles in mere hours.
The Kompatto 104 is Versatile
The best entry-level construction equipment, from crushers to screeners and shredders, should be versatile to serve as many job site functions as possible. Due to its interchangeable screens and mobility, the Komplet Kompatto 104 is a multipurpose debris handling machine.
Compared to other screening machines in its class, the particle flow is excellent. At its base, the Kompatto 104 is a workhorse debris processor that produces up to 275 tons of processed material every hour. While this number depends on the characteristics of the material like its size, wetness, and density, it is undeniably a high-performance compact screener. It uses a 10' x 4' screen deck, vibrating hopper, and vibrating screens powered by a 62 horsepower engine to pump out its high processing speed.
Interchangeable screens
Fine material or bulk material, the 104 can get the job done. Its versatility adds to its base efficiency by allowing construction sites to use specific screens for their job. If a site needs topsoil, they can use a mesh screen that accumulates all the ¼" rubble. With topsoil costing on average $10-50 a cubic yard, the mesh screen starts saving sites money the second it's in use.
If your site has compacted concrete debris and needs to separate piles for recycling and waste, then the stainless steel screens are the right choice. They can handle rough materials and separate oversize debris 5" and over from the rest of the materials.
The Kompatto 104 has two hydraulically folding stockpile conveyors that ensure processed material stays in a distinct pile from other sizes. The screening process is automatic and only requires a single operator with a remote control to operate efficiently.
Advantages of mobility
The 62 horsepower diesel engine that powers the vibrating screens also powers the Kompatto 104's tracks. The screener's compact size in transport (25.5' length x 7.3' width x 9.8' height) allows it to get to the ideal location in a worksite, and it can do so with a single operator and remote control. This minimizes worker downtime for construction debris management.
The Kompatto 104 is Compatible
For job sites that require crushing and screening, the Kompatto 104 works well with the full line of Komplet's crushers and shredders. Move the screener's input hopper under the output belt of the crusher to create a precise onsite debris processing line.
Within hours, you can reduce a pile of unusable debris into reusable topsoil, recyclable concrete, and oversized debris to send to the landfill. The Kompatto 104 Mobile Screener does all of this without requiring permits, making it the perfect entry-level screener.
Get Entry-Level Screeners and Crushers From Komplet America
Whether your business works on roads, bridges, homes, or demolition projects, an entry-level screener like the Kompatto 104 can reduce wasted time and effort on debris processing. Its affordability, versatility, and compatibility make it the ideal first screener.
At Komplet America, we supply affordable, compact, and mobile debris processing equipment. Contact us today to learn more about the Kompatto 104 or any of our other screeners, crushers, and shredders.