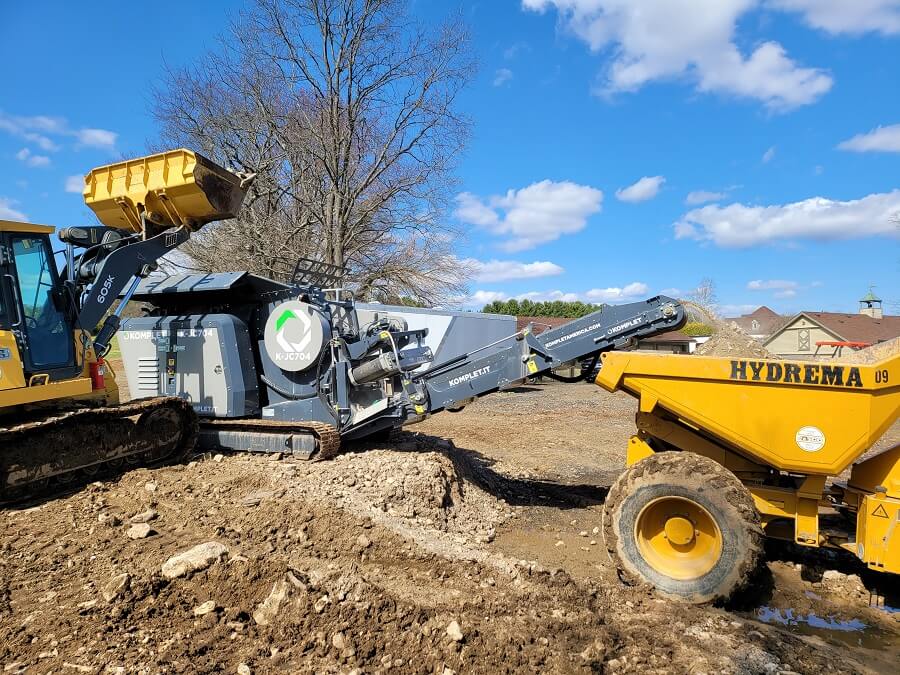 Do Away With Excavation/Removal Downtime: Try the KJC704 Jaw Crusher
Construction contractors of all sizes know the cost of pausing work on excavating and removing construction debris. Construction and demolition debris account for nearly 30% of all construction materials purchased in a project. Handling this solid waste takes up significant worker time and incurs high transportation and tipping fees. Avoid all these setbacks to productivity and profitability with the KJC704 Jaw Crusher from Komplet America.
The KJC704 Jaw Crusher is small enough for easy transport but strong enough to withstand the toughest of applications. It is built to be operated by just one worker, and it pairs well with other on-site recycling equipment for efficient waste recycling. The KJC704 is the machine for contractors ready to eliminate excavation and waste removal downtime.
Rubblize Debris with the KJC704 Jaw Crusher
The purpose of the KJC704 is to take debris sizing up to 27" x 16" and reduce it down to ¾" to 3-¼" aggregate material. The reusable aggregate is perfect for subbase under buildings, roads, and parking lots.
An operator starts by loading debris into the vibrating hopper that senses when vibration is necessary with the pre-jaw crusher inlet sensor. The vibrations ensure the single toggle jaw crusher does not jam and the jaw is adjusted hydraulically to accommodate the largest debris. This process is done at a high speed to create up to 90 tons of aggregate per hour.
A 74 horsepower diesel engine powers the KCJ704. It is easily accessible through two swing doors at the back of the machine for routine maintenance.
The KJC704 is Mobile and Transportable
One of the main advantages of handling your on-site recycling with the KJC704 Jaw crusher is the machine's small size and mobility. With transport dimensions of 18' long, 7.2' wide, and 8.7' tall, it is small enough to fit onto a large trailer. It is specifically designed for operators for whom versatility, maneuverability, and transportability are of key importance.
As with all the Komplet on-site recycling equipment, the KCJ704 is set on tracks that allow it to move independently around the worksite. A single operator can maneuver it to the correct location, load it full of debris, and have 90 tons of aggregate in just one hour. Meanwhile, workers who usually have to help or wait for the debris to be cleared can stay focused on their responsibilities.
The KJC704 Works Well with Other Recycling Equipment
If your worksite creates a large amount of debris in various sizes, then you could use a screener to load appropriately sized debris into the KCJ704 Jaw Crusher. Komplet Vibrating Screeners create three distinct piles of debris from a single heterogeneous pile of construction waste. To create an all-in-one crushing and screening system, line up the screener output that sends appropriate sized waste into the crusher. Both machines are mobile so aligning them is fast and easy.
Increase Worksite Efficiency with Komplet's KJC704 Jaw Crusher
Whether you are a small contractor working on custom home buildings or a large mining operation, the versatility of the KJC704 can help increase your project's efficiency. No longer will debris removal take up your workers' time, and the reusable aggregate the Jaw Crusher creates can replace expensive filler material.
We have been supplying the best mini on-site recycling equipment for over 20 years.
Contact Komplet America for more information about the KJC704 Jaw Crusher and any of our other products.