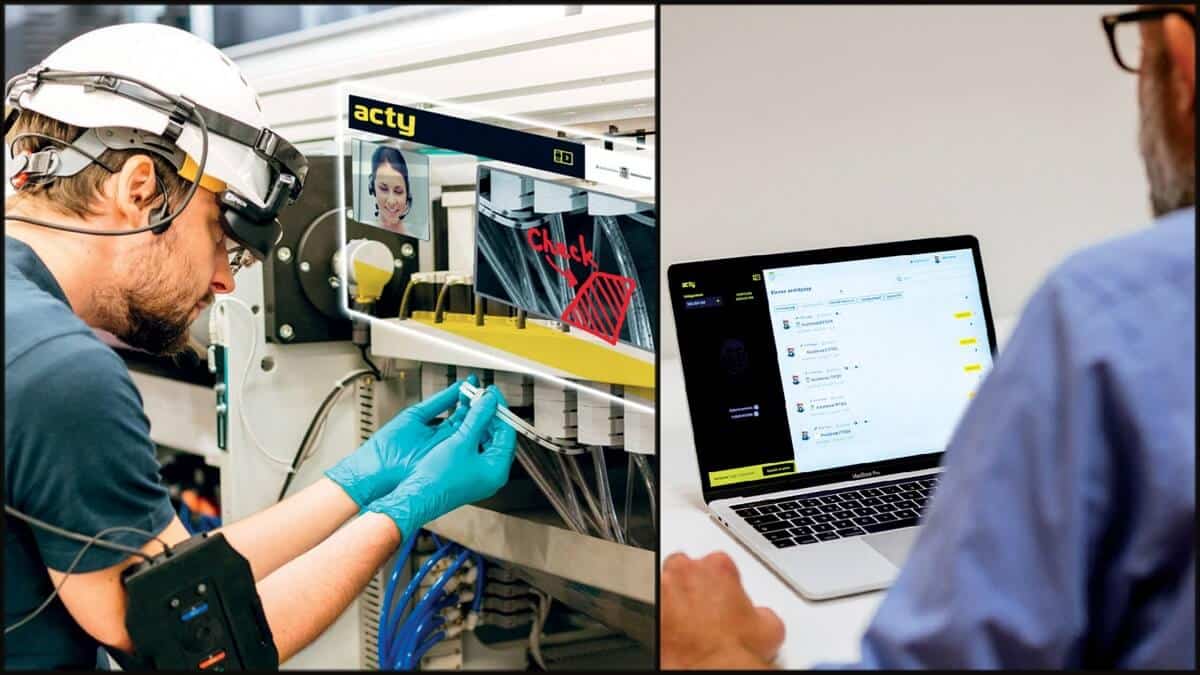 What is Acty Komplet?
Acty Komplet is a collaboration tool, to perform the assistance and diagnose the problem with precision and in less time, avoiding unnecessary travel expenses. With Acty Komplet you can provide remote support to customers with a smartphone, tablet, and smart glasses in augmented reality watching video images in real-time and guiding users as if you were on the field with them. Remotely, without transfers, at any time, with every device.
DECREASE
Problem resolution time
REDUCE
Downtime
CUT
Travel costs
IMPROVE
Staff training
MAXIMIZE
Customer satisfaction
INCREASE
Revenues of the service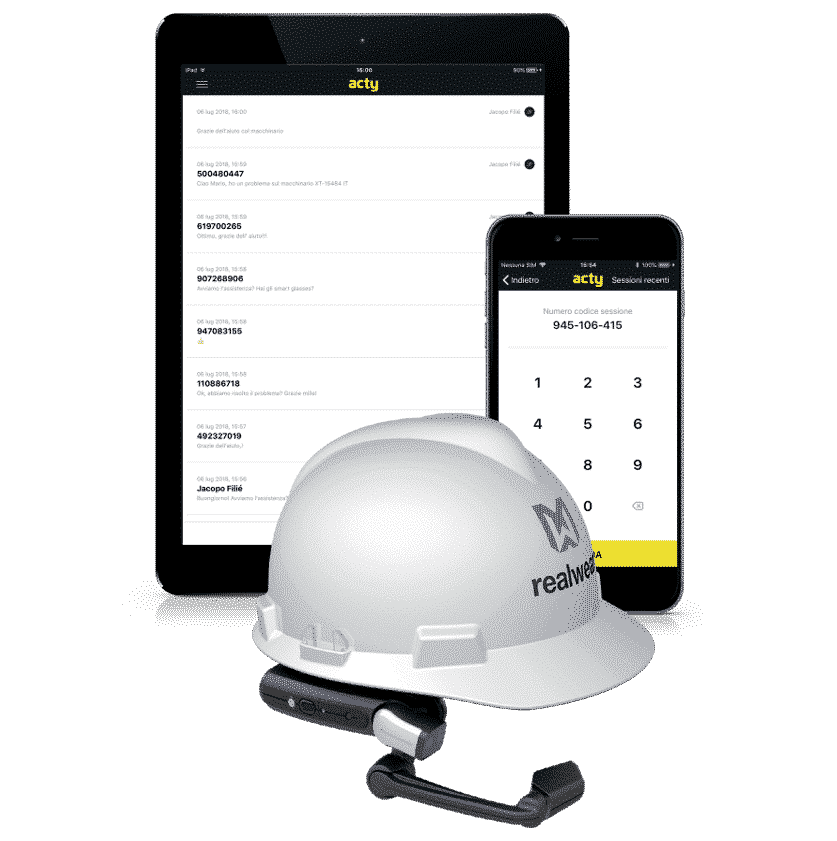 What are the challenges in field service?
Comprehension
Many of the machines, implants and installations are located all over the world, therefore language proficiency can be a barrier for understanding and troubleshooting during service calls.
Inefficiencies
An enterprise can lose a lot of time, money and unnecessary resources not being able to give immediate assistance provided by the right person with the required skill set.
Savings
The time dedicated to the service request calls and technician on-field trips all around the world have a major impact on the estimate of service costs and can be reduced significantly with the right tool.
Training
The knowledge sharing among technicians with more specific or greater experience towards junior technicians often can be difficult due to lack of time dedicated for training.
How can Acty for Komplet help you?
With this app, we can provide guidance to our dealers and customers at any time using any device. We will use this app to carry out:
REMOTE ASSISTANCE VIDEO
TRAINING WORKFLOW
MANAGEMENT
INSPECTIONS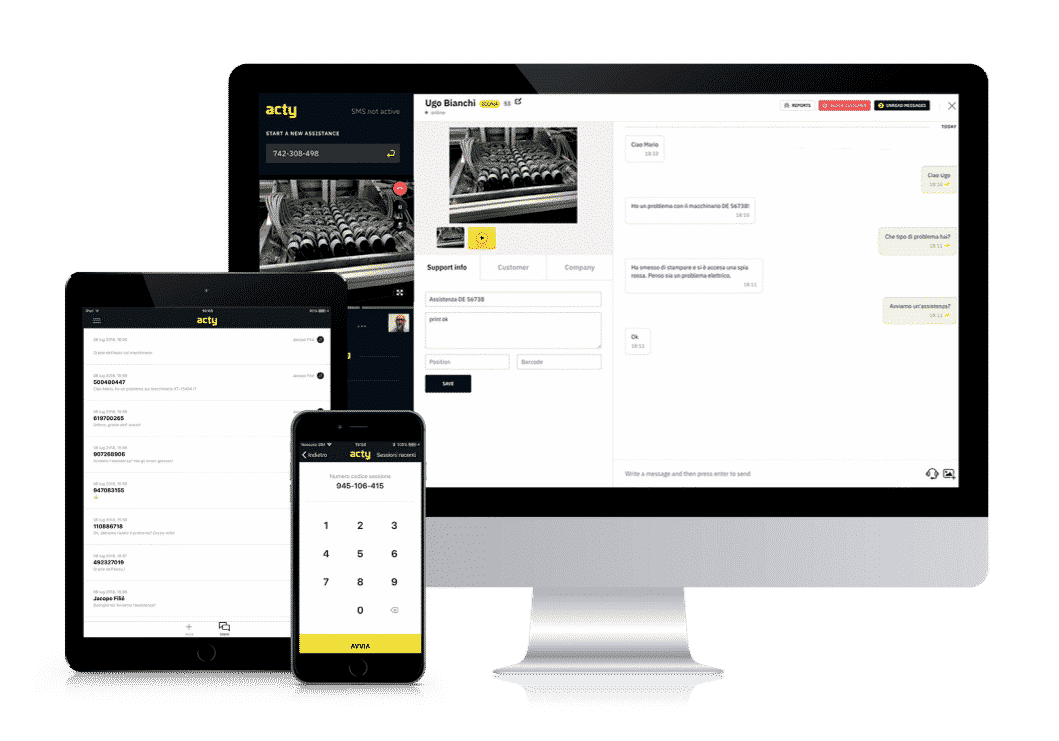 Functions:
Take photos remotely
Record videos of support sessions performed
Share documents (pdf, web, office…)
Drawing in freeze mode and in augmented reality
Company chat
Use of smart glasses
Support file complete with details of each intervention
Benefits:
Instant awareness of the remote problem
Accurate indication where intervention is required
No need for numerous on-site trips
Quicker staff training
No license cost for technicians and customers
Use of company chat and message storage
Photos/videos from each support session saved
Time dedicated to each company is recorded
Company address book with imported details
Customer satisfaction management
What are the benefits of Acty Komplet in Field Service?
Comprehension
Immediate awareness of the problems on-field that can be understood and resolved remotely, facilitated by automatic translation to communicate in different countries and languages.
Inefficiencies
You can immediately make a decision on the intervention strategy and carry out maintenance operations efficiently on different machines and systems.
Savings
Understanding and troubleshooting times on the phone are cut by around 50%, on-field trips are reduced by 12% – 26%, and the economic impact of the generated savings is immediate.
Training
Knowledge can be transferred whenever and wherever more easily from expert colleagues to less experienced ones, guaranteeing a continuous sharing of know-how.
Thanks to the functions of Augmented Reality, with Acty Komplet the expert can draw in AR or Freeze mode and indicate the exact place where the on-field technician must operate. The object palette for drawing is available for both – the expert and the on-field technician and indications are visualized simultaneously by all participants.
Interested in learning more? Fill out the form below.