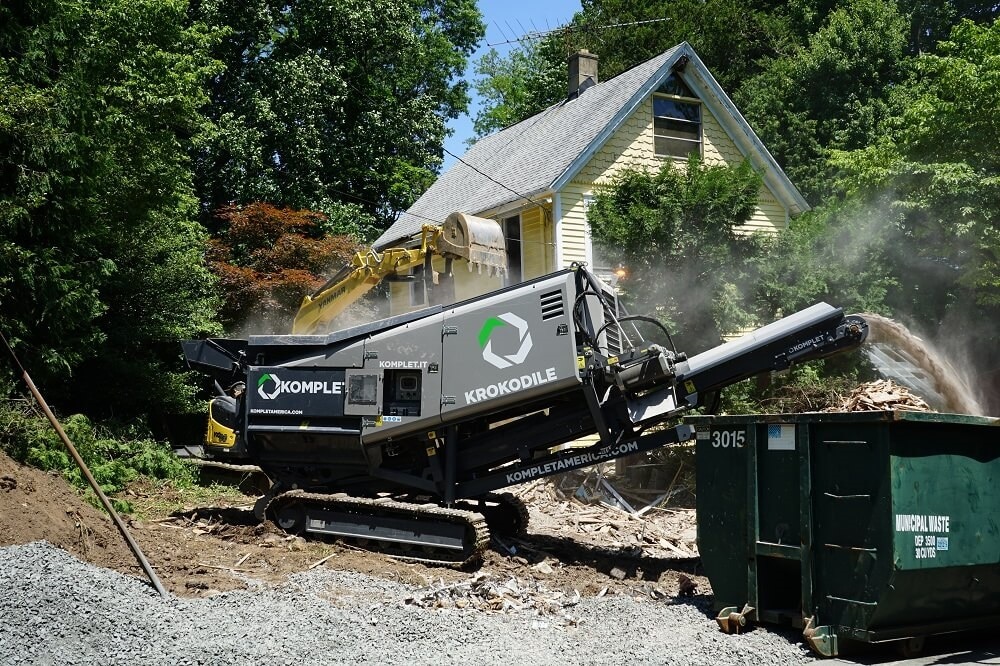 Krokodile Shredder Application Background
Komplet's Krokodile shredder processing debris from a gutted house (approx. 2,000 sq. ft.) in a residential area with a small footprint for equipment. This Krokokdile shredder application highlights it's ability to pull out all the metals clean from the demolition waste filling one dumpster with room for more! In and out. Job done. Money saved. Metal extracted.
Krokodile Shredder Application Highlights
Job Description:
Building demolition
Rental Time:
One week
Location:
Bernardsville, NJ
Lot:
One acre
Personnel:
Two
Type of Material:
Metal, plastic, wood, and wire
Amount of Material at Start:
500 cubic yards
Amount of Material/Product at End:
30 cubic yards
Loading Equipment:
Excavator with bucket
How often, long, and much production:
3 full days with an output size of less than one inch
Was metal pulled out clean:
Yes, all-metal debris was extracted
Why was Komplet chosen / benefits for job site:
Compact versatile shredder needed for limited access job site
If you have any immediate questions about this Krokodile shredder application or how general questions about our compact concrete crushers, then please contact us or fill out the form below to learn more about the latest Komplet has to offer.