Our Philosophy As the Distributor for Komplet Crushers, Screeners, and Shredders
Never Enough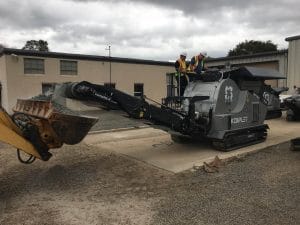 Are you an equipment dealer or rental house? You may think our position is to mass sell equipment. It's all about the numbers, right? Well, while some manufacturers and dealers focus on the numbers. We do not. Yes, we want to grow our business, but while Komplet has 20 years' experience throughout the world, North America is a new focus.
Komplet America's focus is on application, solutions, return on investment, market-entry, identifying a need and facilitating that need, educating, training, and growing our business with a hands-on approach. We believe in working hand and hand with our dealers, rental houses, and end-users.
Does your equipment work as hard as you do? We are looking for dealers and rental houses that live and breathe their customers' business. Dealers who understand, SERVICE! Understand, PARTS! Understand wear parts, DOWN TIME!
Rest assured any Komplet dealer or rental house that joins our team understands our philosophy, "Never Enough," and is always fair with customers above anything else.
As an equipment dealer or rental house; when was the last time you brought on a piece of equipment that grew your business, provided a solution, and were a leader in their industry? Let's get excited together! If you are contemplating this, you should be. Period. If day in and day out you follow the same dynamic. Tweaking your rental rates, coming up with seasonal promotions, and having yearly deals on equipment. Think about expanding your offering. Do your homework, think outside the box. You owe it to your customers and your business. Let's do it together.
We will be traveling North to South and across the country. We will be having meetings with potential dealers that are set meetings, as well as stopping in to provide additional information to other potential dealers. Please contact us to get on a schedule to discuss the benefits of adding Komplet to your fleet.