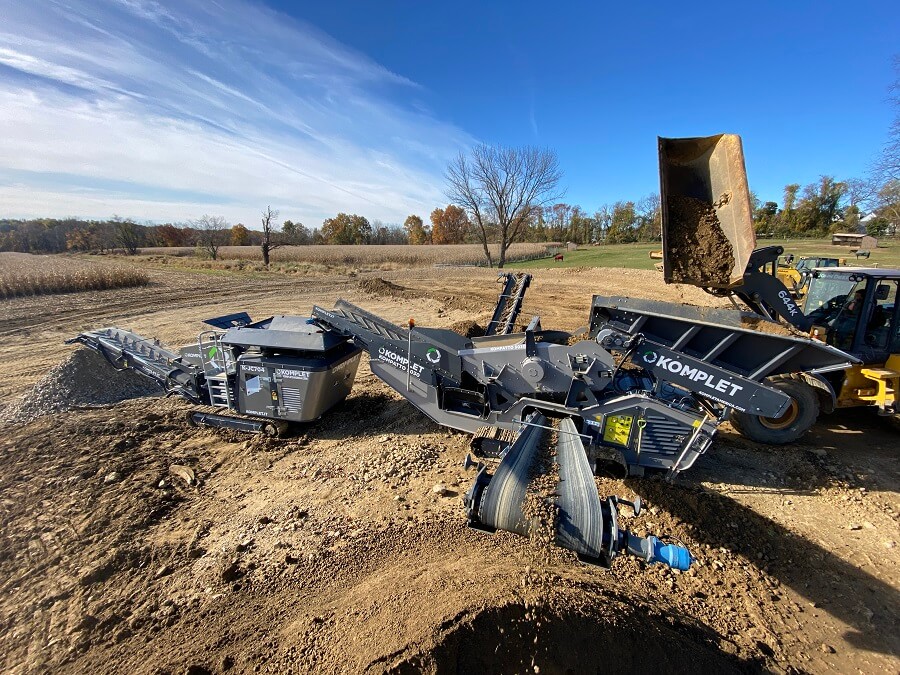 Mobile Screening Applications
Compact mobile screeners are easy to use and designed to perform at every kind of worksite. They are lightweight, which means they're easy to transport, load, and unload. Komplet screeners allow you to separate up to three different products at rates of up to 308 tons per hour (Kompatto 5030) depending on the unit type and mobile screening applications.
If you're a contractor that needs to process materials on site, save time and money with mobile screeners. Whether it's recycling rubble or other construction materials, there are so many applications for mobile screening.
Rubble and debris screening
A small self-propelled mobile screening plant is ideal for rubble and debris. A vibrating screen with three extracting belts and interchangeable screens and meshes can be used for materials that come from:
Construction
Demolition
Excavations waste
Compost
Asphalt
Rock
And much more
The reusable material can be separated into three different sizes after being fed by a backhoe or excavator.
Sand and gravel, aggregates, and recycling
For small to medium-sized operators and contractors that deal with an array of materials, an entry-level screen is ideal. Our entry-level unit the Kompatto 221 features two hydraulically folding stockpile conveyors and a high-performance double deck screen box.
Intense daily screening
For intense daily screening, a mobile screener designed to perform every kind of site work is required. Depending on the type of screening bars required to do the job, the screener will separate sand, gravel, C&D, aggregates, topsoil, landfill, and much more. Applications include:
Demolition sites
Small quarries
Working sites
Waste sites
Komplet mobile screeners have the added benefit of only requiring a single operator to manage the equipment. All Komplet equipment can also be easily shipped in a container worldwide.
To learn how Komplet equipment can improve your job site, contact our team today.