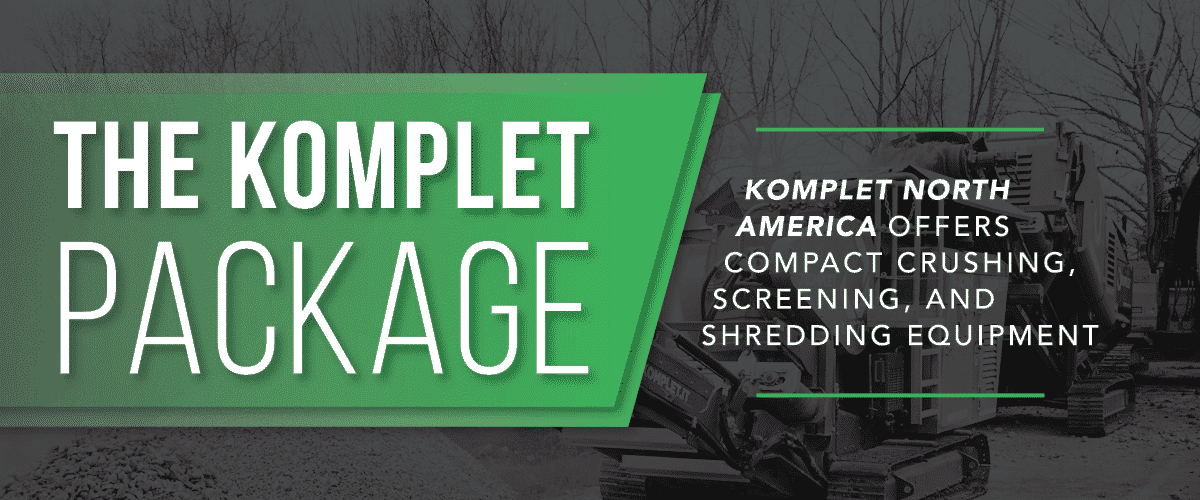 Komplet North America, distributor of Komplet compact crushing and screening equipment, can trace its roots to an Italian earthquake and an invention born of necessity.
Several decades ago, the aftermath of an earthquake left buildings collapsed and rubble everywhere. Crews were challenged in getting their sizeable equipment into the area to begin processing and cleanup, prompting two Italian welders to put their heads together to create a solution. The pair designed the company's current 4825 small crusher, and, in essence, Komplet was born.
In the years since then, Komplet recognized a need and has expanded its offerings to include screeners and shredders in addition to crushers, all with a compact footprint. Today, Komplet North America is the exclusive distributor for Italian-made Komplet equipment, which includes high-performance mobile crushing and screening solutions for recycling, demolition, quarrying, mining and contracting applications.
As is fitting for a company selling such a unique product line, Komplet North America's origins are also unusual. Danielle Z. Savage began her career in sales and product support for a Caterpillar dealer where she gained valuable experience and Kyle Conti a fourth generation civil contractor came together 3 years ago and opened a couple of dealerships offering small, compact equipment. They came across the compact Komplet line and decided to carry it.
"We were looking up compact hammer mills, and we came across these mini crushers, and we wanted to learn more," Conti said. "We thought, hey, these are kind of neat. You don't always need huge monsters to do the job. So we brought them in."
But there was something special about the line that made it fly out the door. "We had a waiting list of customers wanting to rent our equipment. We had to order more to cover the demand. It was unlike anything else," said Savage, now President of Komplet North America.
"It was unique," Conti said. "You don't always need the biggest machine to do the job. It fit a niche, a need." Down the road a bit, Savage and Conti were offered the opportunity to become the sole distributor for Komplet equipment in the United States, and they formed Komplet North America. Conti owns the company.
"It was an easy decision for us to become the sole distributor. I saw there was a need," Conti said. "I saw what they lacked in North America and what we could bring to the table, and I knew it would be a good opportunity. When you find a need, that's where you'll be successful."
Their experiences as a dealer and contractor form the backbone of Komplet North America and, they believe, really set it apart from other companies offering similar equipment.
"We know what it's like to be a dealer. We're very aware of how important parts availability is. You do not want to tell a customer you can't get a part. That's the biggest thing – parts," Savage said. Many European manufacturers have a bad reputation in the parts department, she said, but Komplet North America stocks all its parts at its Hillsborough, New Jersey, location for quick shipment.
"As a contractor, everything is based on service and reliability," Conti said. "If you're down, you lose a lot of money. When I look for equipment, I look for companies that have service, background and good quality I can rely on. With the experience of using the equipment, I'm able to better explain to dealers what they have to do," he said. "After you sell, the biggest part of a successful dealer is service. As a contractor, I can tell you that if you don't have that as a dealer, you won't succeed. I know what it takes to get the job done."
"I see dealers get approached every day by manufacturers wanting them to represent their line, and I know it can be overwhelming," Savage said.
"They have to assess their business, understand which products may grow their business and what won't. Manufacturers are always saying they've got a better product with all the bells and whistles, and dealers end up disappointed.
"Our approach is, we're by nature a dealer and a contractor, so we understand what dealers and customers go through on a deeper level. We make sure they're not overstocking inventory with us. We have them start out and build awareness with their customers."
Word is getting out about Komplet North America, and the phone is ringing with dealer requests. Savage said it's a smart decision because every day, she gets requests for direct sales from all over the country because the equipment isn't available from a dealership in the caller's area. "It's an excellent incentive for dealers to carry the Komplet line," she said.
"The big thing to do is rental," she said. "We get calls from customers who want to rent for a week or a month, and there's no one in their area."
To carry the line, the process is relatively simple. It all begins with a conversation with Savage, who handles all sales and dealer interest for the company. She'll discuss the dealership's plans and determine what equipment is right for them. "From there, a dealership must meet specific standards," Savage said. "Number one is product support," she said. "We have to know that they're capable of providing the level of support for the product." Once qualifications are met, Savage said, she goes over the dealer's business model and delves into how the dealership anticipates approaching its customers. They also discuss how Komplet products would fit in with their other product lines.
From there, things get hands-on. One pillar of Komplet North America's customer support philosophy involves thorough training and it's done in person over several days. Once a dealer has signed on and placed an order, Savage and her team will travel to the dealership or host them at the Hillsborough location for initial training. A Komplet North America technician will work with the dealer's technicians to familiarize them with the equipment and teach them how to replace parts. Savage works with the sales team, coaching them on equipment specs, potential customer bases and, most important, how to demonstrate the equipment once it's on-site.
The training doesn't end there, though. Any time there's a need, there's more training available, Savage said. A technician can call and someone will walk him through the issue, offering parts support for any question. "We want to make sure everybody understands everything completely," Savage said. "We're not trying to run in and run out."
Savage and Conti can offer such comprehensive training because they've got good people on staff, but sometimes it's hard to find and retain good help. Savage and Conti have a plan for that.
"It's tough for everybody. I just had this conversation with a customer in Texas," she said. "Our philosophy is to have clear communication with the people we bring on, and we're clear about what you need to do upfront and the job requirements." Savage and Conti value transparency and keeping employees engaged, acknowledging good work either verbally or financially. They strive to continue to develop employees, listening to their goals and providing a vision of where they're going with the company into its future.
"Our focus is always to make sure we can provide parts, service and training, and to make sure we're growing with the proper staffing and people, which make the company successful," Conti said.
He has high hopes for the coming years."What we're trying to do is open people's minds to the products, so they recognize this product line is a good opportunity," Conti said. "We're here, we're growing this and we're looking for quality dealers to trust and grow together as a family to make this successful."
Savage echoed the sentiment. "There's a heart and soul in this business, in every interaction; I put my whole heart and soul into working with people," she said. "I love what I do. I love working with people who want to grow. If I can help them get there, that's gratifying for me. If the company does well, everybody does well."
The Products

Komplet North America's most popular product is the 704 jaw crusher. It's earned its popularity because of its compact form, making transport easy, and its footprint is minimal, so you're not paying oversized load permitting fees to move it. It's got an impressive capacity, putting out 90 tons per hour with sizes varying from ¾-inch to 3 1/4 inches. The jaws are reversible for asphalt processing, and the vibrating deck has a sensor equipped with an automatic stop during an overload.
Compact Concrete Crushers
Komplet crushers are remote-operated, track-mounted, fully remote-controlled and easy to transport, allowing for fast and simple setup and working procedures by a single operator. Komplet compact concrete crushers offer performance, mobility, maneuverability and, above all, safety.
– K-JC 503: The K-JC 503 is Komplet's most compact mobile jaw crusher. It provides an ideal solution for construction companies and contractors who want to recycle their construction and demolition waste on-site.
– K-JC 503: The LT 503 is a compact, tow-behind mobile jaw crusher with hydraulic output adjustment from 3/4" to 3 1/8". Fully remote-controlled and easy to transport at 7,500 pounds, it can be quickly set up by a single operator to process 5-30 TPH. No trailer is needed for transport.
– K-JC 704: The LT 704 features hydraulic jaw inlet adjustments to produce between 3/4" and 3-1/4" outputs at a rate of up to 90 TPH. Its foldable extracting conveyor belt reduces overall transport dimensions. Standard overband magnet and dust control system ensures that the product is clean and ready for reuse.
– K-JC 805: The K-JC 805 is an easy-to-use compact jaw crusher designed to crush a wide variety of materials, ideally suited to contractors and quarry operators alike.

Vibrating Screeners

Komplet vibrating screeners are remote-operated and track-mounted and have compact frames that offer dynamic performance. Track-mounting and remote-control operation guarantee you will screen demolition debris into multiple outputs with ease. Folding discharge belts are the key to transportation and mobilization in confined spaces. Increase your productivity on the job site when you process materials directly on-site with Komplet screening machines.
– KOMPATTO 104: The Kompatto 104 mobile compact screener is an affordable entry-level screen ideally suited for small to medium-sized operators and contractors who require a versatile product capable of operating in a number of applications, such as sand and gravel, aggregates, and recycling.
– SC 221: The SC 221 is a compact, mobile vibrating screener. Fully remote-controlled and easy to transport at 7,000 pounds, it can be quickly set up by a single operator to separate up to three materials over its double-deck interchangeable mesh screens at a rate of up to 80 TPH.
– SC 5030: The SC 5030 is a track-mounted self-propelled screening machine with lightweight and compact dimensions. Easy to transport, load and unload, with foldable discharge belts, it can separate three products at a rate of up to 350 TPH.

Hammer Mills
Komplet hammer mills are track-mounted, remote-controlled and compact. The Mill Track 5000 is a tracked mill crushing machine and is the smallest on the market today. Equipped with a diesel engine, it can be loaded via ramps onto any truck or trailer and transported with ease, thanks to its compact size and limited weight. Put Komplet compact hammer mill crushers to work exactly when and precisely where you need them. Lightweight and mobile, these diesel-operated machines shatter and pulverize material without shattering your budget.
– MT 5000: The MT 5000 is a compact, mobile hammer mill with output adjustment from 0" to 1". Fully remote-controlled and easy to transport at 7,495 pounds, it can be quickly set in place to process 5-25 TPH.

Compact Shredders
Komplet shredders are track-mounted, remote-controlled, and compact. Put Komplet compact shredders to work exactly when and precisely where you need them. Lightweight and mobile, these diesel-operated machines shred material without ripping up your budget.
– KROKODILE: Flexible, powerful, economical. The Krokodile shredder gives you all the advantages of mobile shredding while being extremely compact. This all-rounder shreds even difficult materials with its robust design and powerful engine.