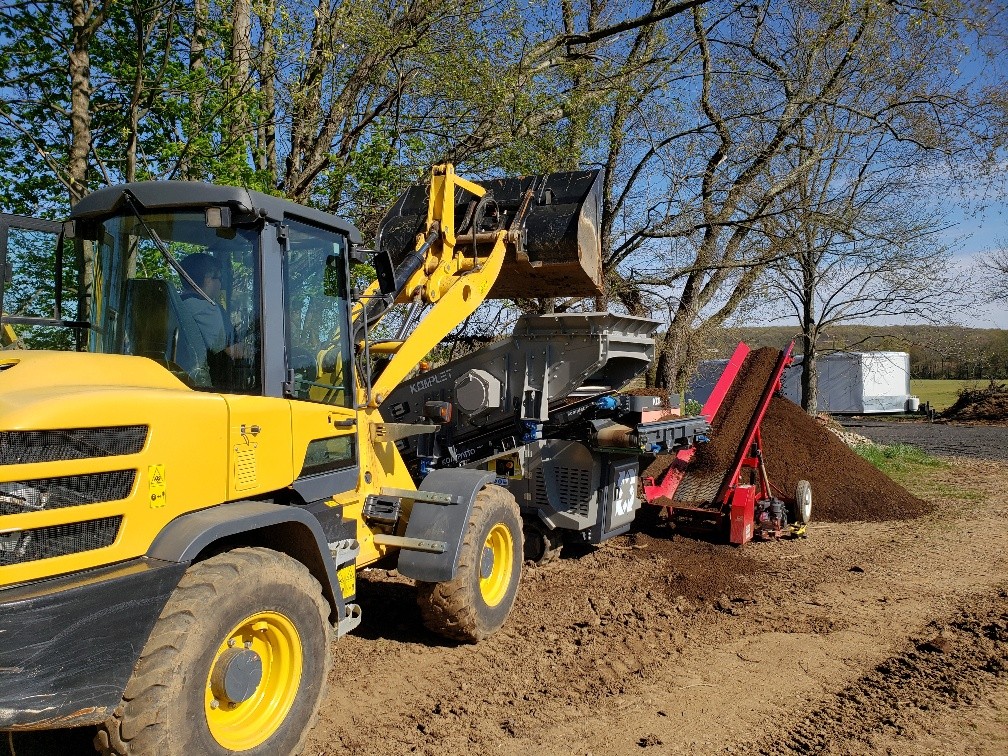 Reasons why the Komplet Kompatto 221 Vibrating Screener Makes a Great Addition to Your Construction Site
Landscape jobs, civil engineering projects, construction sites, and mining operations require efficient waste and materials processing. The Komplet Kompatto 221 Vibrating Screener is the smallest, fully remote-controlled, propelled screening machine on the market today.
Its compact yet high-efficiency footprint is perfect for various screening applications on worksites of every size. Its multiple vibrating screen surfaces and heavy-duty screening media create precise material classes for recycling or efficient waste removal.
If your construction site is looking to reduce downtime for debris handling, waste removal, and material recycling, then the Komplet Kompatto 221 Screener makes an excellent addition to your construction site. Combine it with a jaw crusher and shredder for end-to-end on-site debris processing.
What the Kompatto 221 Does
A screener's function is to process a pile of debris with multiple-sized materials into piles of single-sized materials. The Kompatto 221 uses vibrating screens and a vibrating hopper to increase screening efficiency and precision.
It has a double-deck screening mechanism and screen openings that create three different-sized piles of processed material. The sizes range from ¼" fine topsoil to materials over 5". Its 87" x 40" screen deck can accommodate debris up to 4'; however, debris of that size can cause damage if dropped onto the deck. The Kompatto 221 works best with debris 15" or smaller.
Any construction manager supervising more than one work site will be happy to know that screens are interchangeable, so your worksite can customize the output piles to your needs. Create a fine material topsoil pile with mesh screens or use large stainless steel screens to process bulk material construction debris.
The Kompatt0 221 vibratory screener may be small, but its 25 horsepower engine and vibrating mechanisms give it a material flow and processing speed of 90 tons per hour, depending on the characteristics of the materials. For instance, the machine can screen dry concrete debris faster than wet plant material.
The Kompatto 221 Fits Any Job Site
The Kompatto 221 Vibrating Screener's compact-sized dimensions and mobility make it a valuable tool for any sized job site. Its operational footprint is only 14.5' long, 10.6' wide, and 7.9' tall. In transport, the Kompatto 221 shrinks to 12.8' long, 6' wide, and 7.2' tall. It can get into small areas easily because of its small size and track-mounted mobility.
It combines perfectly with any size jaw crusher for larger construction and demolition sites to create an optimized on-site crushing and screening unit. Just move the screener to the unloading belt of the crusher or shredder, and your job site's debris will be organized into reusable, recyclable, and waste piles in mere hours.
The Kompatto 221 has remote control functionality, so only a single operator is needed to process a construction site's debris. This reduces downtime for other workers and keeps construction projects on schedule.
Keep Your Construction Site on Schedule with Komplet America
Building construction, demolition, and landscaping sites know the time it takes to process and remove debris. With expensive construction processes and waste removal fees, it is also economically responsible for reusing and recycling as much job site debris as possible. With the Komplet Kompatto 221 Vibrating Screener, any size construction site can process materials quickly with precision screening.
At Komplet America, we are industry leaders in compact, mobile, and affordable screeners, shredders, and crushers. Contact us to learn more about our wide variety of products and how they can help your construction site.