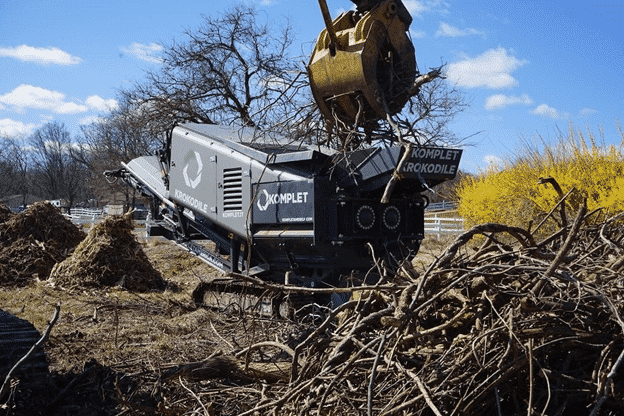 Overview of the Komplet Krokodile Slow-Speed Shredder
Landscapers, contractors, and construction recycling companies all know the necessity of keeping a job site clear of debris. Debris creates an unsafe and inefficient workspace. At over $200 per 10 cubic yards for waste removal, recycling or reducing waste as much as possible makes economic sense. That's why Komplet America offers the Krokodile Slow-Speed Shredder. This shredder is flexible, powerful, and economical.
The Krokodile Shredder is flexible because it can shred any feed material into various sizes. Its 220 horsepower diesel engine gives it the strength to shred even difficult materials like concrete and wood. This shredder is extremely compact so that any worksite can take advantage of mobile shredding.
If you need onsite recycling, debris organization, or compact shredding, consider purchasing the Komplet Krokodile Slow-Speed Shredder.
The Krokodile's Flexibility
The Komplet Krokodile Shredder has an adjustable shredding output, handles a wide range of input sizes and materials, and has easy-to-use controls. This makes it ideal for operating across numerous job sites or one site with multiple materials that need breaking down.
Adjustable shredding output
This machine can shred material down to between 3.25" and 5.75", depending on the type of material. It also gives you the opportunity to choose the output size within a material's range.
Input sizes and materials
This mobile shredder can handle materials up to 60" wide, although it is recommended that 50" is the cap on input size. This also varies on the type of feed material being shredded. It can shred anything from tree stumps to railroad ties, tarmac, and construction debris.
Easy to use controls
The dog-lead remote makes it easy to move the shredder into place and adjust the hopper. Then with remote monitoring and control, you can change the shredding speed or reverse the shredders with a click of a button. You can choose the control program depending on the material being shredded.
The Krokodile's Power
The Krokodile Slow-Speed Shredder's robust design and powerful engine allow it to break down tough materials at a rate of 200 tons per hour. However, the output changes based on the material being processed. For example, wood waste is lighter, so there is less tonnage per hour.
The shredding mechanism is made up of two 60" shafts with 160 torques and 0-45 revolutions per minute (RPM). The 220 horsepower engine combined with the adjustable RPM means this all-rounder shreds even difficult to handle materials like chunks of concrete with rebar inside.
The Krokodile's Economics
The Krokodile is the type of shredder that any sized job site can use because it is compact, relatively light, and mobile. When in use, the Krokodile is 27.4' long, 7.2' wide, and 10.5' tall, and it transports at the same width but at 23.5' long and 9.6' tall.
It is effective at shredding while being extremely mobile due to its tracks and remote controls. It is lightweight compared to other material shredders, weighing less than 15 tons.
With rentals available as well as full purchases, the Krokodile is an excellent choice for both landscapers breaking down piles of woody material and construction sites adding shredding to its existing crushing and screening recycling system.
Contact Komplet America to Learn More
A mobile and compact shredder is invaluable for on-site recycling and waste management. Komplet America's Krokodile Shredder can clear a worksite in a matter of hours with just one to two workers because of its power and flexibility.
At Komplet America, we provide worksites with high-end compact crushers, screeners, and shredders. Get in touch with us to learn more about the Krokodile Shredder or any of our other products.