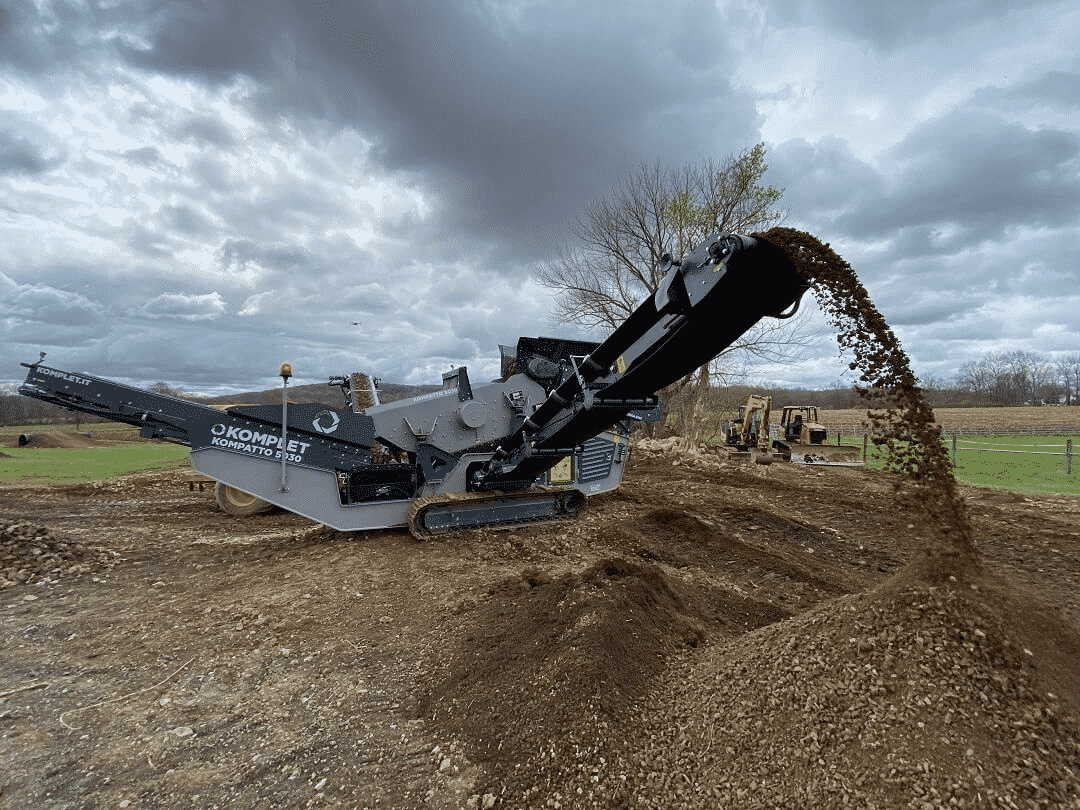 Komplet Kompatto 5030 Vibrating Screener Overview
Vibrating screeners are highly versatile machines used for sorting soil, rock, concrete, ores, gravel, demolition waste, and other materials. If you're looking to add a vibrating screening machine to your equipment fleet, here's why you should consider the Kompatto 5030 mobile vibrating screener.
Overview and Specifications
The Kompatto 5030 is the largest model in Komplet's line of compact mobile vibrating screeners. It is a compact, self-propelled, tracked vibrating screening machine designed to be lightweight and suitable for heavy-duty applications.
As with other Komplet equipment, the Kompatto 5030 is sufficiently compact to fit inside a single standard 40' shipping container, making it easy to transport in and out of the job site.
It is compatible with steel mesh screens and heavy screening bars. This means it can be used in both the pre-screening and final screening roles, either independently or in conjunction with a crusher, such as the Komplet K-JC704.
Features and Technical Data
When fully deployed, the Kompatto 5030 is 30.8' long, 34.7' wide, and 9.5' tall. After folding it down and preparing it for transportation, it becomes significantly narrower and shorter, at just 7.3' wide and 8.3' tall. The 5030's standard weight is 26,455 lbs. (approx. 13.22 tons), equivalent to a medium-sized dozer.
Engine and tracks
The 5030 is a tracked vehicle featuring one track on each side. Each is 9' long, 1.3' wide, and fitted with trackpads, ensuring their durability and longevity, regardless of the surface traversed.
The 5030's power plant is an Isuzu diesel engine developing up to 43.5 horsepower. It consumes approximately 2.25 U.S. gallons of fuel per hour on average, significantly less than most other types of construction equipment seen on a typical job site, making it a highly fuel-efficient machine.
Processing capabilities
The Kompatto 5030 can process various materials and aggregates through its 8.2' x 3.2' vibrating loading hopper and its 8.2' feeding belt. It features a 100' x 40' screen deck, and the hopper's maximum capacity is approximately 88.3 ft³.
The forward-facing screen box can accept multiple screening nets, grids, and bars, suitable for sorting and screening sand, gravel, topsoil, landfill materials, wood, leaves, C&D waste, and other aggregates. It can also accept the output of a mobile jaw crusher or shredder, such as the Komplet Krokodile slow-speed shredder.
Performance and Applications
The Komplet Kompatto 5030 mobile vibrating screener is an ideal piece of equipment on any job site requiring on-site material screening. Use it on construction sites, demolition projects, quarries, agricultural environments, waste processing facilities, and more.
The Kompatto 5030 requires only one operator and comes with remote controls for movement and emergency stop controls, making it easy to move and reposition as needed. It also features a dust dumping system, allowing you to easily cycle dust out of the machine and keep it running longer.
Although it can accept any material up to 4' in width, inputting oversized materials risks damaging the screen deck. The recommended width range of the input material width is 0-15". Though the 5030 can accept damp, wet, and sticky materials, such as wet leaves or compost, you may see a slight reduction in output speed and performance. For optimal results, process dry materials only.
The Kompatto 5030 can produce up to 308 tons of materials per hour at full load. Maximum output depends on the type of material inserted. Output belts can be configured in either a 2-way or 3-way split, producing piles of sorted materials of 2 or 3 different sizes, depending on your sorting needs.
Contact Komplet America Today
Komplet America is the sole authorized distributor of Komplet jaw crushers, screening machines, shredders, and other recycling and materials processing equipment. Contact us today for a quote or more information on any of our products.