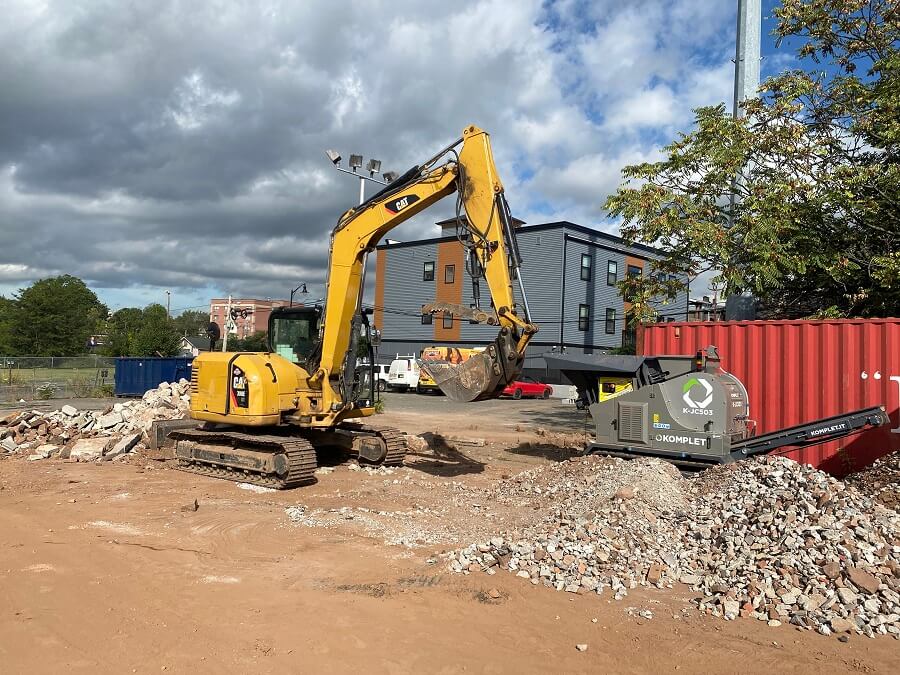 Jaw crushers are heavy-duty machines that break down rocks into smaller pieces, gravel, sand, or dust. They are essential machines used in quarries or for preparing rugged landscapes for construction work.
Typically, the crusher features a fixed, V-shaped jaw and a mobile swing jaw. The rocks are fed into the machine and pass through the fixed jaw. The mobile jaw applies force on the rocks against a stationary plate. The angle of the fixed jaw determines the size of the crushed rocks.
Mini jaw crushers provide a cost-effective and mobile solution for processing materials. At Komplet America, we supply high-quality mobile crushers, such as the KJC704 hydraulic jaw crusher, which can reduce various materials, from concrete to recycled asphalt. They are easy to transport and can be used on small and large job sites.
Why Mini Mobile Crushers are the Future of Jobsite Material Processing
If you need to prepare a site for construction or remove large rocks from a property, consider a mini mobile crusher from Komplet America. Our high-performance crushers work quickly and efficiently.
Due to their convenience, these mobile material processing machines are becoming increasingly popular nationwide. Here are the main reasons why mini mobile crushers are the future of job site material processing in the United States.
● Hard material processing
Mobile jaw crushers are ideal for processing hard materials like rocks and concrete. This isn't the case for all types of crushing equipment. For example, heavy-duty impact crushers are designed to handle dirt, clay, and certain metals, and cone crushers are popular machines for reducing steel. However, jaw crushers are recommended as the primary crushing device for large, heavy-duty stones and other abrasive materials.
● Saves time
When using a stationary crusher, construction projects are often delayed due to the time it takes to excavate, remove, and replace materials. Our mini mobile crushers work quickly and efficiently, reducing downtime during site preparation and allowing you to reuse the crushed materials.
Each unit is designed to process a specific amount of material per hour, helping you plan site operations accurately. Komplet America can provide you with a mobile crusher to meet your processing demands. Our mobile crushers can produce between 34 and 220 tons per hour depending on the model.
● Increased mobility
One of the critical advantages of one of our units is mobility. Our crushers are easy to move and don't require special licenses to transport. The crushers are remote-controlled to improve job site efficiency and safety. Our tracked mobile crushers can traverse various terrains and be easily loaded onto a trailer for long-distance travel.
● Quality components
Mini mobile crushers from Komplet America are built with high-quality steel to manage daily heavy-duty material processing. Our crushers contain premium components from the mainframe to the swing jaw and from the flywheel to the eccentric shaft. They come with a side protection kit, helping maintain the condition of the critical parts.
● Cost-effective
When compared to other industrial material processors, mini mobile crushers are cost-effective. They are durable, easy to maintain, and are available to hire from rental houses, saving you the cost of purchasing the machine outright. Depending on your needs, we can provide a machine that crushes up to 220 tons per hour.
Work With Komplet America
Komplet America is a leading provider of material processing equipment. In addition to high-quality mini mobile crushers, we also stock screeners and shredders for recycling construction waste.
If you're looking for a full-service equipment distributor that can improve the productivity and efficiency of your job site, partner with Komplet America. Browse our entire product range or contact our representative to discuss becoming a Komplet America dealer or rental house.