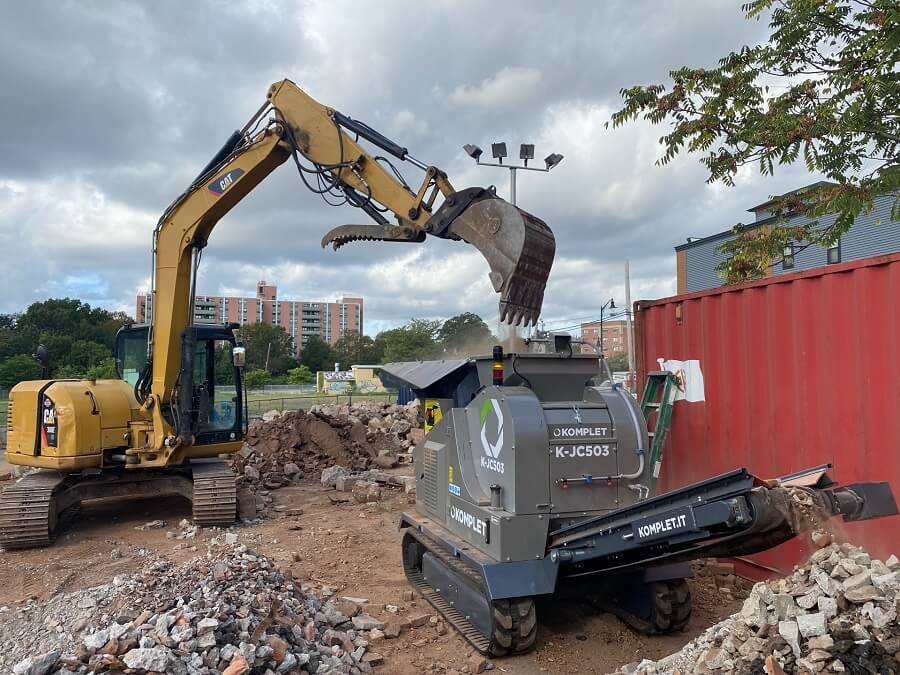 Getting Rid of Construction Waste:
The Sustainable & Affordable Way!
Construction is a process that involves a considerable amount of planning, building, executing, and then cleaning. There are always significant amounts of waste that build up during the construction process. It is important that this waste is taken care of safely and efficiently. Komplet America provides innovative and sustainable construction waste removal solutions at an affordable price. Recycling your waste is the right move.
Sustainability Is Key
Komplet America offers rubble recycling machinery that is eco-friendly and affordable. This modern method of disposing of C&D waste is one of the most effective there is. We offer a compact product line of jaw crushers, vibrating screeners, and slow-speed shredders to take care of your rubble and waste in a sustainable way. Our experienced staff knows exactly what equipment will work best to recycle and repurpose your construction waste depending on your application. Komplet crushing and screening equipment is undoubtedly the way to go, as the traditional way of removing waste is inefficient and costly. The world is changing, and so is the way that people get rid of waste. The modern aspect of Komplet mobile recycling equipment ensures that we are at the top of solutions for your recycling needs year after year.
Work with a Company That Knows What They're Doing
Removing waste is a very important part of the construction process. If it is not done properly, your construction business may be hit with various fines and fees. Additionally, choosing to have your rubble removed traditionally means you are more likely to experience complications and costs. Komplet America prides itself on providing top-notch waste processing equipment at an affordable price. Working with us guarantees that your construction waste will be disposed of in a resource-efficient way. Our techniques are proven and our staff is knowledgeable of all types of situations. Let Komplet America remove your rubble the right way.
If you have any questions about Komplet crushing, screening, and shredding equipment, then please reach out for more information and to schedule an in-person demo; contact us today!