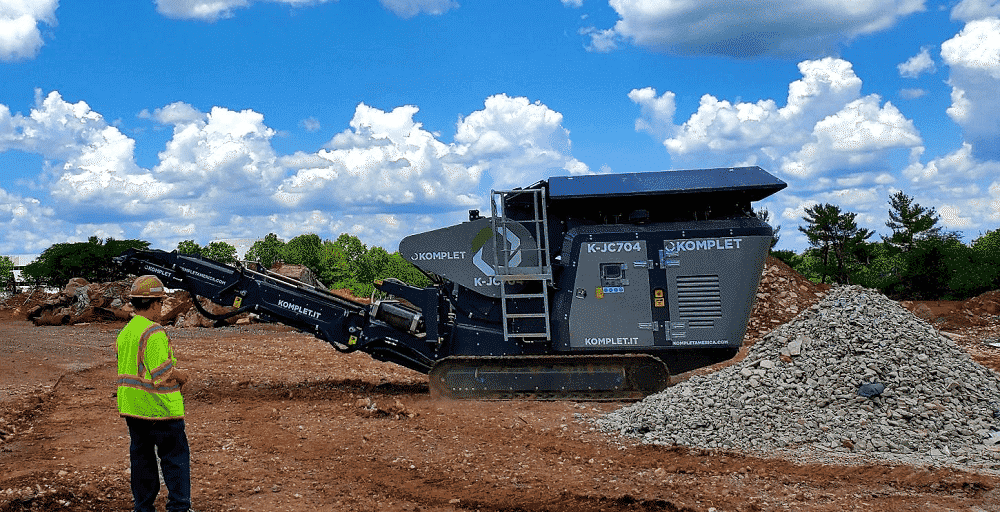 Why Rental Houses Should Offer Customers Komplet On-Site Recycling Solutions
Construction and demolition (C&D) debris is a constant consideration on job sites. In 2018, 600 million tons of C&D debris were generated in the United States. Handling this much waste is costly. Loading and unloading waste takes time, waste centers require fees to process the materials, and hauling costs add up over the life of a project.
On-site recycling is the solution with a solid return on investment that customers will appreciate. On-site recycling solutions include crushers, screeners, and shredder machines that create materials for further use on the job site.
They offer customers a great solution to the logistical and environmental concerns with C&D debris. The up-front cost of this equipment makes renting from a rental house more feasible than buying their own.
Crushers Create Fill On-Site
Crushers take construction waste like concrete and asphalt and break them down into acceptable-sized pieces for further use. Komplet America's crushers come in small and medium to large sizes to meet the needs of small contractors or big construction companies.
Komplet America's mid-sized crusher K-JC704 is a mobile crusher that can crush and recycle up to 90 tons per hour. It is set on tracks for mobility to any location on a job site. Load debris with a skid steer or other machinery directly into the crusher and get an output size of ¾" to 3¼".
The K-JC704's 27" x 16" jaw crusher grounds brittle materials like concrete, granite, and other natural rocks into fill material. The reduction in hauling prices and fill dirt, which can cost up to $16 per cubic yard, will immediately save your customers money. Plus, renting out equipment allows smaller operations to afford on-site recycling only when they need it.
Screeners Isolate Useful Materials
Screening machines take a pile of C&D debris and segregates the waste into three different sized piles. Crushing and screening equipment work in conjunction to efficiently reuse debris. Screeners, like the Komplet Kompatto 5030 Mobile Screener, first create three piles of debris, differentiated by size.
The Kompatto 5030 segregates debris into ¼" topsoil, oversized 5" debris, and anything over 5" for the third size. The larger segregated materials are loaded into a crusher to bring them down to an appropriate size for fill. Small mobile crushers and screeners are great for landscaping because they fit in small spaces and create topsoil out of recycled debris.
All Komplet America machines are remote-controlled by one operator, from mini concrete crushers to the large Kompatto 5030 Mobile Screener. On-site recycling solutions increase the efficiency of your worksite both in material handling and machine operating. Companies that occasionally need screener equipment can contact rental houses to provide machines to avoid the costs associated with purchasing outright.
Shredders Prepare Material for Crushers
Shredders are used in applications where it is advantageous to standardize debris size before crushing operations. Road and bridge construction sites use shredders to prepare debris for fine crushing operations. A shredder like the Krokodile Mobile Slow Speed Shredder shreds various material sizes into a consistently sized output.
The 3¼" to 5¾" output can then be crushed into finer recycled material to supplement ground fill on-site. It can also be sent to a crushing plant for recycling which costs considerably less than taking untreated debris to a recycler or landfill.
The Krokodile shreds up to 220 tons of concrete and asphalt an hour while shredding 22 tons of wood per hour. Wood's lighter weight accounts for the change in tons per hour, and the shred volume is the same for these two materials. Rental houses should offer shredders along with crushers and screeners to accommodate all their client's on-site recycling needs.
Supply Your Customers with the Best On-Site Recycling Solutions
Finally, an affordable, reliable crushing, screening, and shredding solution exists for dealers or rental houses and their customers. Komplet America's on-site recycling solutions create usable material on-site or recyclable material for recycling centers.
Over their lifetime, on-site recycling machines pay for themselves by reducing hauling costs, increasing efficiency, and eliminating landfill fees.
Contact Komplet America for more information about how our on-site recycling machines can improve efficiency and save your customers time and money. Komplet America is excited to bring 20 years of on-site recycling solutions to the USA.