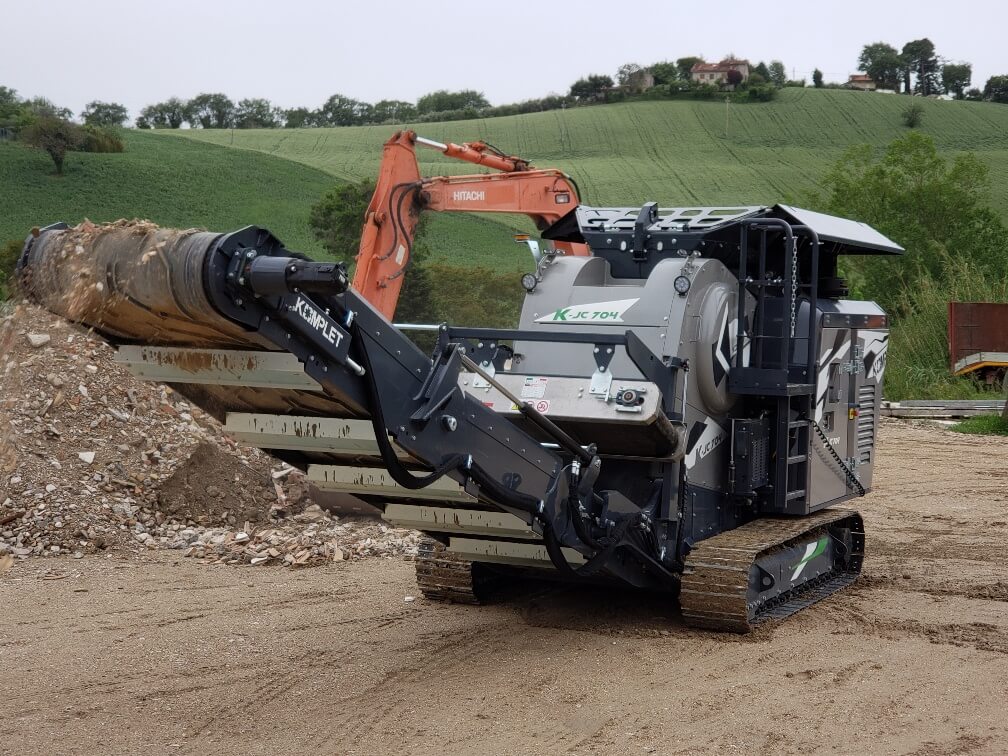 The Komplet Jaw Crusher Offerings: Find Out Which is Best for Your Needs
Jaw crushers are material processing equipment used to break down rocks and other hard materials on construction sites. Komplet America carries three different jaw crushers for your business' on-site recycling and clean-up needs.
Explore the different properties of each jaw crusher model to determine which is suitable for your project. Consider the dimensions of the machinery, whether it has side protection, and what accessories you require.
Mini Jaw Crushers
Mini mobile jaw crushers are becoming a popular primary crusher for material processing among builders and contractors. Due to their mobility, cost-effectiveness, and crushing capabilities, they are used as primary and secondary crushers in various industries, from mining to construction. Mini jaw crushers are an effective alternative to cone or impact crushers.
Mobile crushers are easy to transport with a truck and trailer. At Komplet America, we provide tracked crushers, ensuring they can move seamlessly around a building site. At Komplet America, our selection of jaw crusher offerings ensures there is an affordable, reliable solution for crushing, material processing, waste recycling, and demolition waste.
Komplet America Equipment
Komplet America is a leading provider of high-performance crushers, screeners, and shredders. Our mini crushers are track-mounted, easy to transport, and remote-controlled by a single operator.
Komplet crushers can reduce operating costs by saving you time and labor expenses on-site. They allow for remote operation and mobility within your project site, so you can position them in a convenient location for cleaning up debris. Learn about some of our mini jaw crusher options:
● K-JC 503
The K-JC 503 is our smallest mobile crusher. It offers pavers, landscapers, general contractors, and other construction customers an excellent solution for breaking down rocks. The K-JC 503 features a sensor above the jaw inlet, automatically engaging or disengaging the feeder belt. This helps reduce the risk of jams and clogs.
This Komplet compact mobile crusher can process hard materials, including natural rock, concrete, cold asphalt, and sandstone. The output size is hydraulically controlled using a remote device. The K-JC 503 can process up to 34 tons per hour.
● K-JC 704
The K-JC 704 is a mid-size mobile option, featuring a 27" x 16" single toggle, hydraulically adjustable jaw. It can process various materials, including granite, limestone, and concrete.
A valuable feature of this machine is the double swing door at the backside. It provides easy access to the engine for maintenance, helping preserve its condition for longer.
Capable of processing up to 90 tons per hour, the K-JC 704 is a productive machine. Despite its high output, this crusher is compact. It is designed to be versatile, maneuverable, and easy to transport.
● K-JC 805
The K-JC 805 is our largest mobile crusher. It boasts an impressive 134 horsepower engine and features an inlet opening of 31" x 20", so it can process up to 220 tons per hour. The modern, compact design ensures it can service large building sites and quarries. However, as with other Kompact crushers, it is easy to transport and highly maneuverable.
The K-JC 805 has multiple useful features, including:
Dog-leash remote control
Intuitive control panel
Remote access
GPS location technology
Jaw level sensor
Spray bar
Andidust system
For heavy-duty material processing in challenging locations, the K-JC 805 is an excellent option.
Choose the Best Jaw Crusher for Your Needs
If you need a reliable source for high-quality crushing and screening equipment, explore Komplet America's selection of jaw crushers.
Komplet America is the sole distributor of superior material processing equipment in the United States. We are excited to bring 20 years of Komplet America products to our U.S. clients.
Browse our website to explore our complete product range or get in touch about becoming a Komplet America dealer and provide rock crushers to your customers.