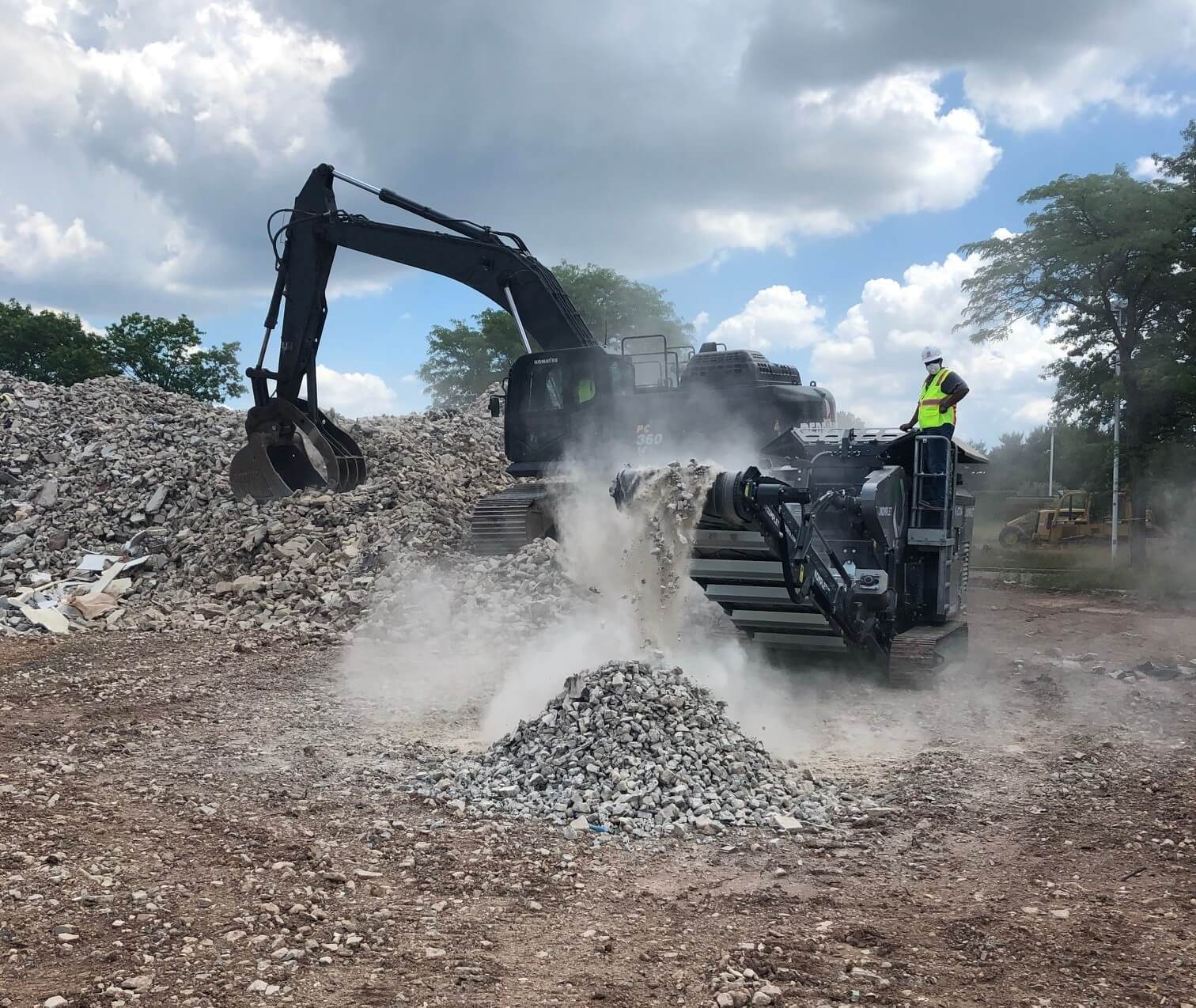 Why Equipment Dealerships and Rental Houses Should Join Komplet America's Team
Innovation is the key to continued success in American industries, and it is no different for equipment rental houses and dealers. It is vital to expand and change equipment offerings to meet the changing needs of your customers.
With increasing labor costs, work efficiency is more important than ever. Plus, environmental concerns and pricey waste management fees are pushing companies to adopt on-site recycling solutions.
Whether you are an equipment dealer or rental house, you need to give your customers a reliable waste management solution. Komplet America is excited to bring 20 years of quality material processing equipment to the USA. Our small and mobile crushers, screeners, and shredders offer your customers on-site recycling solutions with a solid return on investment.
Your Customers Need On-Site Recycling
On-site recycling turns construction and demolition debris into usable material on the job site. This practice saves companies money by increasing worker efficiency, decreasing dirt fill purchases, and eliminating waste management fees.
– Worker efficiency
Komplet America's on-site recycling solutions increase worker efficiency in two ways. First, recycling material on the job site eliminates the time spent loading and hauling waste to landfills.
Site productivity is enhanced because Komplet America's mobile crushing, screening, and shredding machines are remote-controlled by one operator. One worker can focus on crushing and recycling debris for future use while everyone else is available to work on the project.
– Replace dirt fill with recycled debris
No matter if your customers are landscapers or road servicers, they spend considerable capital on dirt fill and delivery costs. Small rock crushers like the Komplet America K-JC503 can replace dirt fill orders by breaking down concrete, asphalt, and other brittle materials into ¾" fill material. Screened fill dirt can cost up to $80 every five yards, so on-site recycling solutions save your customers money.
– Eliminate waste management fees
On-site recycling equipment eliminates the need to drop off construction debris at the landfill. The fees at landfills add up over the life of a project, making on-site recycling cost-effective for your customers.
Komplet America's Team Carries Everything Your Customer Needs
Dealers and rental houses need to carry crushers, screeners, and shredders to fully accommodate a customer's on-site recycling needs. The machines work in conjunction with one another to recycle different materials.
Crushers work in tandem with screeners to efficiently create three sizes of recycled material from one pile of debris. A skid steer or mini-excavator can load the debris into a mobile jaw crusher which outputs ¾" to 3¼" rocks straight onto a screener. The screener then separates the crusher output into size segregated piles determined by the size of screens in the machine. Large debris that wasn't crushed forms the third pile.
Shredders, like the Krokodile Mobile Slow-Speed Shredder, assist in the process by reducing large debris up to 50" down to a manageable 3¼" to 5¾" pieces. Then a crusher can create the fine output necessary for many types of fill. All together, Komplet America's equipment provides your customers with recycling for all types of waste and debris, no matter their size.
Join Komplet America's Team of Dealers and Rental Houses
It is essential for dealers and rental houses to offer machines that make their work efficient and cost-effective. Komplet America's on-site recycling equipment does that by increasing site productivity, decreasing waste management costs, and lowering construction material expenditures.
Komplet America has you covered whether your customer needs a mini concrete crusher or a mobile heavy-duty screener. We are proud to provide an affordable, reliable crushing, screening, and shredding solution. Contact us today for more information about joining Komplet America's Team.