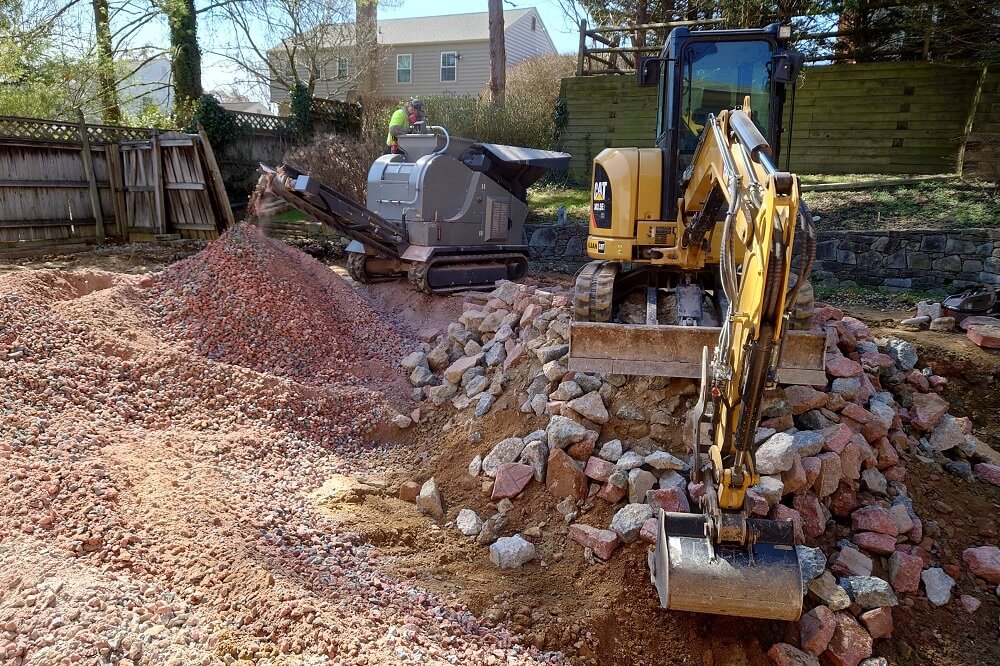 The K-JC503 is the smallest and lightest Komplet mobile tracked jaw crusher. Despite its size, it is fully capable of heavy-duty operation in the harshest conditions. The K-JC503 allows construction firms and contractors to benefit from on-site construction waste processing and recycling. It also offers other unique advantages, from reducing downtime to boosting productivity.
Learn how the Komplet K-JC503 Jaw Crusher can help your business, minimize downtime on the project site, and reduce construction and demolition waste.
Technical Specifications
The Komplet K-JC503 is a lightweight tracked mobile crusher with jaw-crushing action. It can crush and process numerous types of stone materials and construction and demolition (C&D) waste, such as concrete, brick, sandstone, gypsum, and natural stone.
The K-JC503 is powered by an efficient water-cooled Kubota 3-cylinder diesel engine, developing approximately 25 horsepower. However, it only consumes 1.45 gallons of fuel per hour.
The jaw plate is hydraulically adjustable. The crushing chamber can accept materials up to 10"x8" in size, reducing them down to sizes ranging from 0.75" to 3.25", depending on the configured output size. This reduction ratio allows construction firms to break down waste into coarse or fine materials, such as aggregates.
The crusher's maximum material processing output is approximately 34 tons per hour, making it an ideal solution for small to medium on-site C&D waste processing tasks.
Why The K-JC503 Improves Work Efficiency
Compact mobile jaw crushers such as the KJC503 are invaluable tools for construction companies and contractors looking to reuse C&D waste and reduce the environmental impact of sending it to a landfill.
On-site processing of C&D waste helps you turn non-viable concrete, asphalt, and gypsum into aggregates of various types and sizes. You can use these materials on the construction site right after processing.
For example, crushed concrete can be used to make a new concrete mix or applied as a base layer of aggregate in place of natural sand or gravel. Another example is the gypsum in scrap drywall, which you can recycle and reuse to make new drywall or to use as an additive to concrete or plaster.
Besides the environmental advantages, on-site processing of C&D debris helps you significantly reduce or eliminate downtime associated with waiting for deliveries of raw materials.
A mobile jaw crusher makes you less dependent on fixed processing facilities and factories, improving work-site productivity and allowing your team to make many of the materials they need without delay.
Other Advantages
When fully deployed with the hopper, the loading belt, and the extracting belt, this compact mobile jaw crusher is significantly smaller than competing models, at just 14.9' long, 4.7' wide, and 6.4' tall.
At just under 7,500 lbs., the K-JC503 is very lightweight for a machine of its class, making it easy to transport on the back of a semi-truck. Its compact size makes it a perfect solution for on-site processing on the most remote and limited-access job sites.
No matter where your team needs to work next, your K-JC503 can follow. Instead of using a large and costly cockpit cabin, it is 100% remote-controlled. A single operator can remotely move the K-JC503 in and out of position, providing unmatched flexibility and increased job site safety.
Improve Your Work-Site Efficiency With Komplet America
Komplet America is the exclusive distributor of Komplet jaw crushers, shredders, vibrating screeners, and other waste processing equipment in the United States.
Our machines are designed to help you turn waste into precious resources, helping you produce valuable building materials directly on the work-site.
For a quote or more information, send us a message at info@kompletamerica.com.